SPARKY'S – Lunch in Hatch, NM
Posted: January 20, 2018
Filed under: geezerTrips, New Mexico, Uncategorized
Leave a comment »
This post had to be edited to announce that Sparky's won the Green Chile Cheeseburger Challenge at the New Mexico State Fair.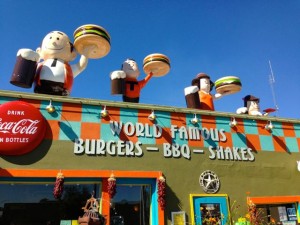 Sparky's is the place to stop in Hatch, NM. It is just off I-25, 185 miles South of Albuquerque, NM and 38 miles North of Las Cruces, NM. The population is 1673; with 12.3% over 65. Thirty Thousand people show up on Labor Day for the Hatch Chile Festival.  Hatch green chile is known throughout the Southwest and can be found in any New Mexico grocery store.
Sparky's is a great stop if you are going from Albuquerque to Tucson and taking the Hatch-Deming by-pass to I-10. The by-pass passes huge dairy farms, a solar farm and a wind farm, not to mention cattle ranches and fields of green chile, and of course the omnipresent immigrant check-point.
Sparky's has collected every large fast food statute that you can imagine and has placed them along the highway and around Sparky's.
You can order the green-chile cheese burger and have it cut in half if you are old; or, even if you are not. The geezer is a big advocate of shared plates. You order/pay at the counter and find your own seat. It may be outside or next door where there is a stage, sound equipment and  the largest collection of cookie jars that I have ever seen. If you are over 70, it is nostalgaville. Things you haven't seen since the 40's.
On Friday, Saturday and Sunday, they have bands you never heard if you are over 70, playing country and the blues. It is closed on Mon, Tue and Wed. so plan your trip carefully.
You might think that you would be out of your comfort zone at Sparky's; but take it from the Geezer, you will feel right at home.  The Geezer is an advocate of leaving your comfort zone, as long as it doesn't hurt. Beats the usual turnpike fare.
---