THE HIGH LINE – Walking New York on the 2nd Floor
Posted: August 8, 2019
Filed under: geezerTrips, My Backyard, Uncategorized
Leave a comment »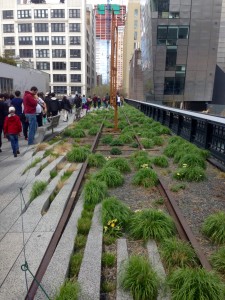 The High Line is an urban path that  used to be an elevated train track. It runs from Gansevoort Street about 1;45 miles to 34th street.  Access is by stairs and elevators. The 34th street end is about three blocks from Penn Station, so you can take a train or subway there and walk over.
The four phases were opened in 2009, 2011, 2014 and 2015. It is similar to the rails-to-trails program and other programs that have created unusual walking paths. This one is smack, dab in Manhattan and snakes through a valley of skyscrapers, with 40 added in the last 10 years and more under construction. Walking it you are surrounded by windows looking out on the High Line and cranes rigging new construction.
You can walk, but not bike, the distance. There are over 210 species of plants; and, of course, old train  tracks.
There are places to sit, and ares that allow for a  picnic or party for up to 20 of your friends. In addition, there are numerous events planned for the summer. Around each stair/elevator, restaurants, and bars are springing up.
I did not see any toilets; only, numerous signs on restaurants that restrooms were for customers only.
The High Line is not as wide as I expected; but, it is a use of old second story train tracks.How wide can two elevated train tracks that go through downtown Manhattan be? It is a great idea and should be, and has been, replicated in many places.
It is a tourist destination only if you want to see  one of the performing groups,  if you want to see what could be done in your backyard, or if you are curious.
Such paths provide old people a chance to get outside, to walk, to meet and socialize with friends and to interact with their environment. 
I would like to see:
1. Chess/checker/etc. boards so that old people could play chess/checkers/cards/  etc. like they do in Europe and small town mid-western town squares.
2. Drinking fountains.
3,  Toilets
4,  Maybe, but it would be tricky, ice cream carts, coffee carts, etc. on the path. Perhaps they could use the second-hand carts that airlines used to use before they stopped providing food/drinks/etc. on flights.
5. In the open space, early morning tai chi as in San Francisco China Town.
If you are interested, take a look at the following:
I checked out New Mexico on Trailink and discovered that the 16 mile long bike/walking path, 100 yards from my home was listed, in addition to dozens of others that I had not heard about. Wherever you go find an interesting walking path. Walking is what a "good" old age is all about.
---