Posted: December 23, 2018
Filed under: geezerTrips, New Mexico, Uncategorized
| Tags: 2926, Abluquerque, Albuquerque, historical, railroad, Railroad History, steam locomotive, trains
Leave a comment »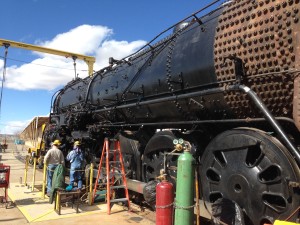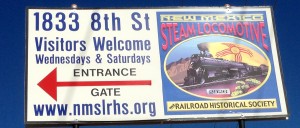 In Albuquerque, NM I visited the 2926 Restoration Project. The New Mexico Steam locomotive and Railroad Historical Society is restoring a steam engine that hit the tracks on May 17, 1944. It travelled 1,090,539 miles. It is being completely restored by volunteers and will be put back into service for excursions soon, we hope.
You can visit the restoration project on Wednesdays and Saturdays at 1833 8th NW, Albuquerque, New Mexico. One of the members will give you a  tour and explain what the restoration.
It is close to Old Town and the Indian Pueblo Cultural Center.
Try Cafe Azul for the best huevos rancheros with Hatch green chile – get the papitas, not the hash browns. BUT: the hot Hatch green chile may take you way out of your comfort zone. Remember you can always have it on the side.
 In September there is always the model railroad exhibit at the state Fair. If you like New Mexico trains,  ride the Amtrak, the Railrunner, and the Cumbres and Toltec narrow gage. At Christmas, take the Cumbres and Toltec through the snow.
Ride the RailRunner to Belen, NM  and visit the rail museum and Harvey House with The University of New Mexico Division of Continuing Education.
You can see a video showing the history and restoration of 2926 on You Tube.
THINK OLD!!
---
Posted: July 11, 2014
Filed under: geezerTrips, New Mexico, Uncategorized
| Tags: African-Americans, Albuquerque, Black, Flight, Wings
Leave a comment »
In Albuquerque, NM there is a Performing Arts Center and Exhibit Hall devoted to African-American Culture and History. It is a new, modern building located next to the NM State Fair Grounds at 310 San Pedro, NE.
The Exhibit Hall is well worth a visit. The current exhibit is "Black Wings."  This describes the role of African-Americans in aviation from the very beginnings to the present day and includes inventors, stunt pilots, daredevils and astronauts. It is a part of history that few of us are familiar with and reflects the contributions of African-Americans.
The Performing Arts center presents plays and musical performances. The next one is "The Ricky Malihi Jazz Ensemble" which will perform  on August 9, 2014.
As a traveler you should search sites in each town that you plan to visit for events that you might otherwise never consider. Every town has them.
While in New Mexico you should also search and consider visiting sites where the "Buffalo Soldiers" were stationed and  fought.  African-Americans were active in NM before, during and after the Civil War. Read more about them.
Visit the Center's web page to discover a worthwhile attraction.
THINK OLD!
---