Posted: February 2, 2014
Filed under: GeezerTrips, New Mexico, Uncategorized
| Tags: 2926, Abluquerque, Albuquerque, historical, railroad, Railroad History, steam locomotive, trains
9 Comments »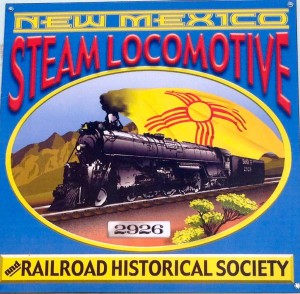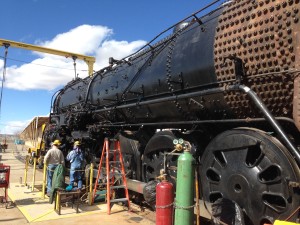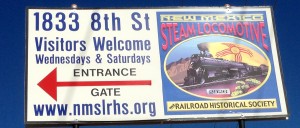 In Albuquerque, NM I visited the 2926 Restoration Project. The New Mexico Steam locomotive and Railroad Historical Society is restoring a steam engine that hit the tracks on May 17, 1944. It travelled 1,090,539 miles. It is being completely restored by volunteers and will be put back into service for excursions in 2015.
You can visit the restoration project on Wednesdays and Saturdays at 1833 8th NW, Albuquerque, New Mexico. One of the members will give you a  tour and explain what the restoration.
It is close to Old Town and the Indian Pueblo Cultural Center.
Try Cafe Azul for the best huevos rancheros with Hatch green chile – get the papitas, not the hash browns. BUT: the hot Hatch green chile may take you way out of your comfort zone. Remember you can always have it on the side.
It is worth a visit; especially on May 8, 2014, National Railroad Day. In September there is always the model railroad exhibit at the state Fair. If you like New Mexico trains,  ride the Amtrak, the Railrunner, and the Cumbres and Toltec narrow gage.
On May 10, 2014 ride the RailRunner to Belen, NM  and visit the rail museum and Harvey House with The University of New Mexico Division of Continuing Education.
You can see a video showing the history and restoration of 2926 on You Tube.
---